Snow days are many things – an opportunity for winter adventure, a parent's worst nightmare, a time to catch up on your Netflix queue. But for the vulnerable residents of the Washington, DC region, snow days present a real and present threat. Last week's storm Jonas couldn't have hit at a worse time for those neighbors in the Washington metro area who struggle to access the food their family needs. Of the 540,000 neighbors served by the Capital Area Food Bank each year, 54% of those who participate in SNAP (Supplemental Nutrition Assistance Program) report their food stamps running out before the second half of each month. The storm kept most people in their homes long after the snowfall ended, meaning that hourly workers lost wages and people were cut off from food resources at the time of the month when they need it most.
Even the Capital Area Food Bank was forced to take one snow day, but by Tuesday we were back to work and ready to move food into the community where it was needed most. To address the need we first reached out to our partner network, adding food to existing orders and committing to new fresh produce drops in high need areas. Knowing many of our partners were still snowed in, we also looked to our broader network for support. We quickly found a willing and committed partner in the District Department of Parks and Recreation (DPR), which has provided afterschool meals in coordination with the food bank since 2013.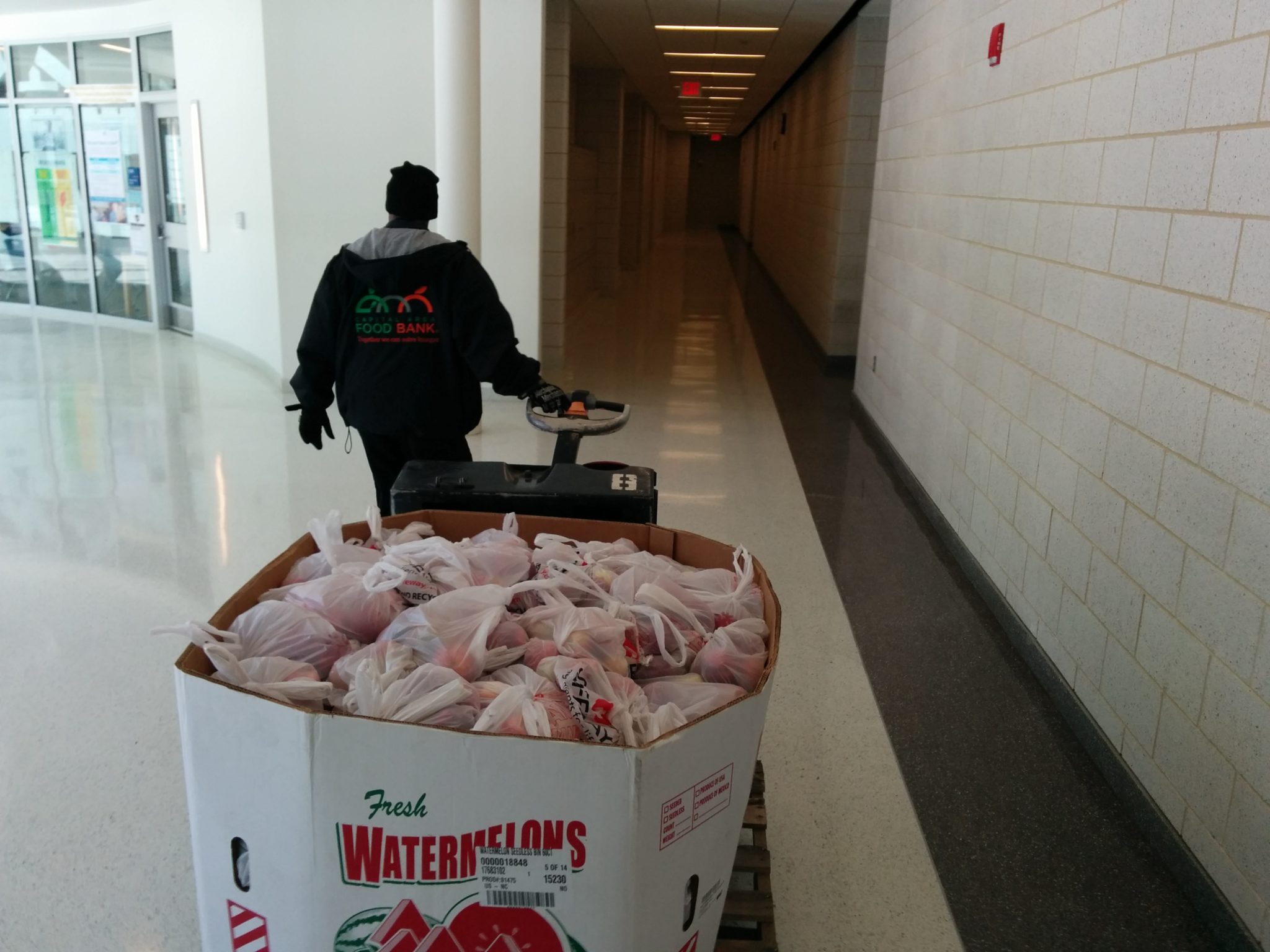 DPR identified eight Recreation Centers across four high-need Wards to host an emergency food distribution the week after the storm. All centers received two types of fresh produce, ready to eat meals, packaged rice, and assorted drinks. Even with very little time for outreach, many residents participated, with close to 750 households–about 2,700 residents–receiving food. Volunteers lent their support, some even donating food on the spot. As DPR Director Keith Anderson said in the Washington Sun, "Residents having access to healthy, nutritious food is important to us and this week our expanded partnership with the Capital Area Food Bank will assist those in need."
Recreation Centers are true community hubs, and Recreation Center staff know their neighbors. This helped spur innovation during the crisis. Some centers, not getting the turnout they anticipated, kept their food distributions running until 9PM, catching parents picking up children and basketball teams after the game. Another sent teens door-to-door to drop off groceries at the homes of homebound seniors and individuals with disabilities. Each distribution was a reflection of strong community bonds and resiliency. The efforts truly epitomized our hope of creating collaborative, community responses to hunger.