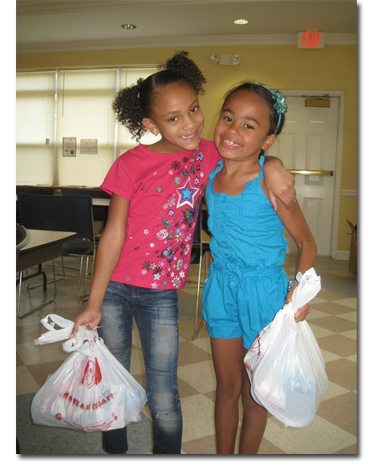 The Capital Area Food Bank is committed to providing summer meals to kids who are struggling with hunger. With the help of great funding partners such as Our Family Foundation, supported by Giant Food in Landover, Maryland and Sodexo, a long-time supporter of the Summer Food Service Program across the country, we are proud sponsors of the SFSP.
When school's out for the summer, kids lose access to free and reduced school meals, so the food bank works with a specially chosen food service vendor to provide free breakfasts, lunches, snacks and suppers to kids in the Washington metro area. We partner with a variety of sites, including community centers, low-income housing centers and Boys & Girls Clubs. Those sites receive daily deliveries of healthy, complete meals – like beef tacos with lettuce and tomatoes, rice, apricots and milk. We strive to provide a variety of interesting and healthy meals, meeting and often exceeding the national nutrition regulations that are a mandate of this program, so that we can satisfy kids' appetites while also introducing new healthy options.
Free summer meals are nationally underutilized, so we're working hard to connect these meals with the kids who need them. We're spreading the word by advertising at events, in publications and through our other programs. Our dream is for every kid to stay healthy, happy and well-fed this summer, so that they're able to continue growing and learning year-round.  If you know a child or a family with children who might benefit from the Summer Food Service Program, please pass on the contact information below. You'll be doing your part toward a healthier, happier future!
If you're in the Washington, DC area, click here or call 3-1-1;
If you're in Maryland, click here or call 1-877-731-9300;
If you're in Virginia, click here or call 2-1-1.