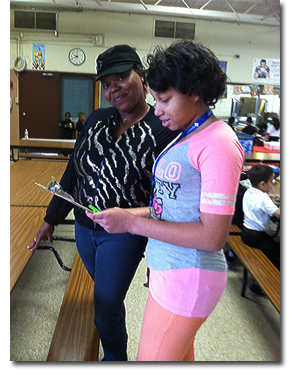 Do you hear the crunch?
Stanisha does! Tuesday, March 25th is Maryland Day. What better way to celebrate than by crunching into an apple? Thousands of people across Maryland will be biting into apples to show their support for all kids having access to a healthy breakfast.
Glassmanor Elementary School in Oxon Hill, MD heard the crunch, and Stanisha writes this about the importance of the experience:
Hi, my name is Stanisha. I'm an 8th grader at Friends Community School in College Park MD. I am doing my year-end project on accessing affordable, healthy foods in low income neighborhoods.
As a service project I volunteered for the CAFB at Glassmanor Elementary School, taking pictures of the staff biting into apples for the "Hear the Crunch" campaign. The biting of the apples represents the importance of people eating healthily and that children should have access to affordable, healthy foods.
Most of the school children were eating healthy lunches through the free lunch program. Their choices included spaghetti with meat sauce, broccoli, mixed vegetables, oranges, apple sauce, salad and milk.
The children at Glassmanor Elementary School were so cute and the adults were so fun to work with. They all supported children eating healthy meals and were enthusiastic about participating in the campaign.
In the state of Maryland 13.4% of residents and 19% of children are food insecure; and in Prince George's County 15.6% of residents and 11.4% of children are food insecure. Food insecurity is defined as limited or uncertain availability of nutritionally adequate and safe foods or limited or uncertain ability to acquire acceptable foods in socially acceptable ways.
From this project I gained new-found appreciation for eating healthy and helping others to eat healthy. Thank you Capital Area Food Bank!
Thanks to Stanisha for your help and to Glassmanor for your support.
If YOU support healthy breakfast for kids, grab an apple…and take a bite! Make sure to get a selfie or have a friend snap a pic of it, and tweet it up with the hashtag #HearTheCrunch.