Each year, the Capital Area Food Bank's Blue Jeans Ball brings together chefs from near and far who share their culinary creations with attendees. They serve up their best offerings at this historically sold-out tasting event. The CAFB is lucky to have many long-standing partnerships with some of the best eateries and food vendors from across the metro region.
One of the more exciting aspects of planning the Blue Jeans Ball is getting to work with new restaurants and engaging them in our mission to reduce hunger throughout the region. This year, the food bank is delighted to work with some old friends, including Sangam Catering International.
Owner Edward Dean serves up his award-winning Butter Chicken, a classic Indian dish which consistently has guests lining up for a taste. This is Sangam's signature dish and always a big crowd-pleaser at Blue Jeans Ball!
Dean, who served as Head of Personnel at the U.S. Embassy in India prior to starting his own catering business, has been with the event "since day one" and always wows guests with his Indian cuisine.
The annual ball will also feature other local favorites, including the Dupont Circle establishment Restaurant Nora. Chef Nora Pouillon's certified organic restaurant will be offering up goat cheese mousse and wild mushroom tartlets—a dish that will surely please vegetarians and carnivores alike!
Another newcomer to Blue Jeans Ball this year is the popular Capitol Hill eatery Cava Mezze, who will be catering the reception prior to the main event. They will be serving some of their most popular appetizers, including chickpea and zucchini fritters. We have so many restaurant partners this year that will be serving up their signature dishes, too many to name, so click here for a complete listing.
We invite you to throw on your best pair of jeans and your dancing shoes for a night of great food while supporting the work of the Capital Area Food Bank!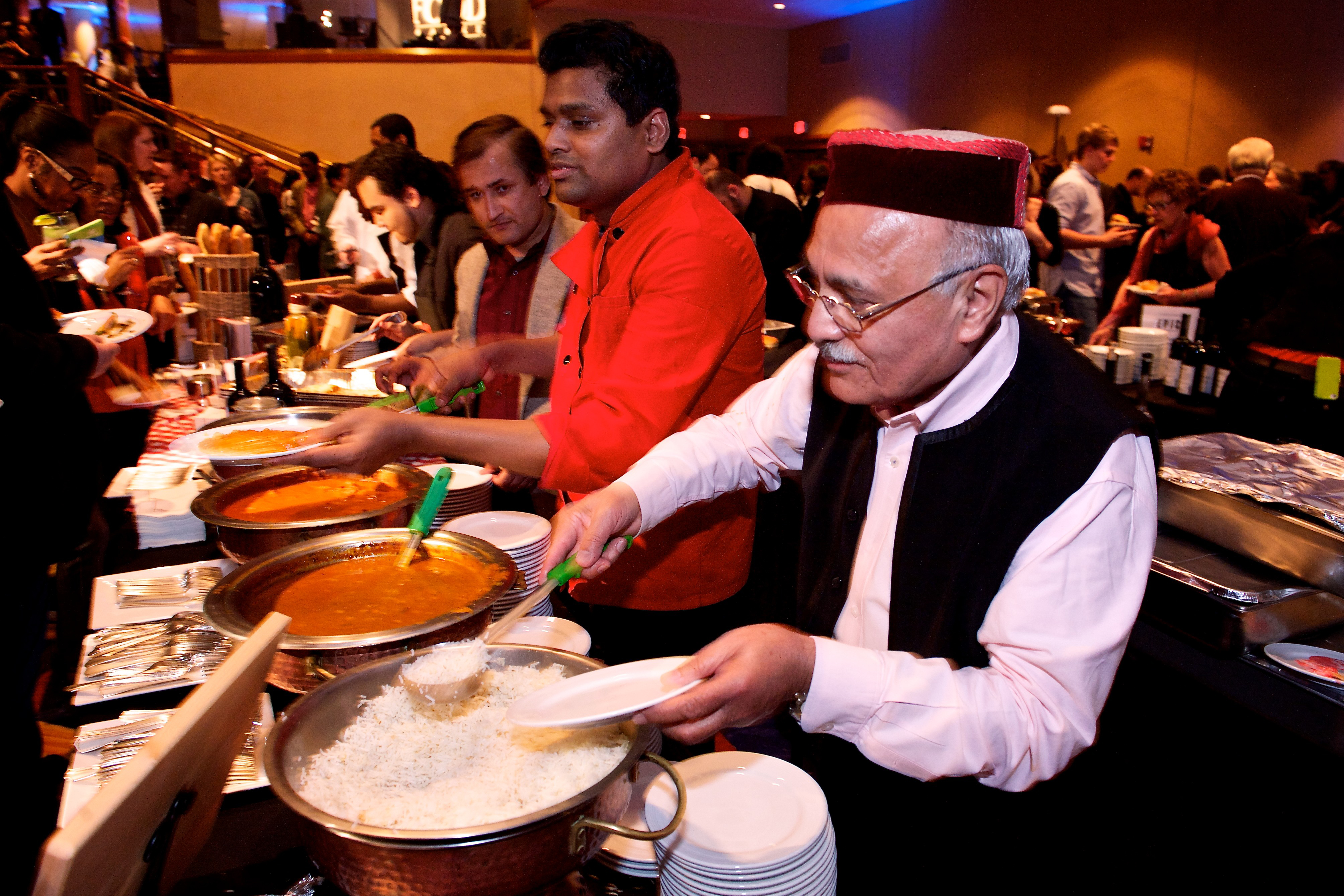 Chef Edward Dean of Sangam Catering International, serving his famous Butter Chicken at Blue Jeans Ball 2013.
Photo Credit: Deb Lindsey