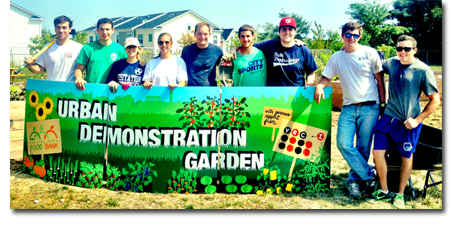 The head gardener at the Capital Area Food Bank beams when you ask about her job. "My job is difficult but incredibly enjoyable. Come to think of it, though, that's probably how most gardeners feel!"
MJ Crom runs the teaching garden, a powerful way to promote nutrition education, and to connect people to the food they eat. The community feels a sense of connection to fruits and vegetables when they see them grown in real time, she says.
"We broke ground on our Urban Demonstration Garden in March 2013, and we are still in the construction phase. With the plan more than halfway complete, I can feel we are building a legacy," Crom says.
Here at the food bank, our soil and seeds teach partner agencies how to grow healthy food cheaply. If you give someone something harvested from your garden, you will feed them for a day. But teach someone how to garden, and you will feed them for a lifetime! So our goal is to encourage churches, community groups and all of our partners to start their own gardens on their own land.
There are currently 30 wooden raised beds, and last season, we grew green beans, legumes, tomatoes, peppers, eggplant, okra, beets, carrots, radishes, turnips, tomatillos and several types of herbs.
This year, we want to add more delicious, nutrient-rich food to the harvest, including raspberries, blackberries, blueberries and strawberries.
We take great pride in this garden we run here in NE Washington, DC, with its 100-foot native flowering plant garden. The beautiful flowers are a sight to see, and give off the sweetest of smells in a warm summer breeze. They are all pollinator friendly, which means bees and butterflies flock to the garden, and all the plants benefit.
Creating a "buzz"
Visitors are consistently impressed with our composting process, tool shed, and our 10,000-gallon irrigation system, which harvests water from the roof of our vast Capital Area Food Bank building, distributing and pumping the clean water underground.
We have excitement in our garden. Most people have come into contact with some form of gardening, but not everyone has been to a bee yard.
Our apiary is made up of two large bee hives donated and nurtured with the help of Izzy Hill, an experienced beekeeper who showed us that bees are an essential contributor to our food system. We harvest honey in late June, and expect about 20 pounds of honey/hive. And because the honey is hyper local, it is both yummy and great for those suffering from allergies!
"The bees at the food bank are thriving, hunkered down for the winter after a busy season collecting pollen and nectar from the Demonstration Garden," Hill explains. "In turn, they helped the food bank grow as many fruits and vegetables as possible and have done a great job demonstrating to others how they, too, can use bees to achieve unbelievably high yields in their own gardens."
Weed 'em and reap!
"It's fantastic. I think the amount we have accomplished in just nine months is incredible. I think it is going to be one of the most impressive gardens in the city," Crom says.
The goal is to have the whole garden under cultivation for the 2015 growing season.
We make the most of Washington, DC's growing season – our garden is harvested from late spring until late fall. We take the wide variety of food and either distribute it through our agency mart or use it in our cooking demonstrations and workshops — we hold at least three of those each season. And some of them are held right in the garden!
Our Grow Your Own workshop helps partner agencies that work with young children. We teach them how to share the love for fresh, healthy food by showing them how easy it can be to start any size garden — from backyard to balcony.
The Bang for Your Buck workshop is our way of helping partner agencies focus on low-cost gardening. It doesn't have to cost a lot in supplies and soil to grow foods that might otherwise be expensive if they were buying it in a grocery store.
Container Gardening is another very popular workshop. Not everyone has green space for even a small garden, yet there are so many varieties of healthy fruits, vegetables and herbs that can be grown in containers — and most people have a window sill they can use as a small container garden!
And our plans are not stopping there. Construction has already begun for our new greenhouse, which will help extend the growing season, and also prep seedlings for partner agencies who want to grow their own gardens, but need a little help in those very first stages.
We are working to improve our drainage and even installing a rain garden. A rain garden is our way of using all the excess rain water, and using it to bolster deep-rooted plants that do well in wet soil and will make good use of the extra water.
It's no wonder our work gets rave reviews.
"The typical reaction I get from people who visit our garden? They are blown away by how unique it is to have a healthy growing space like the one we have at the food bank," Crom says.