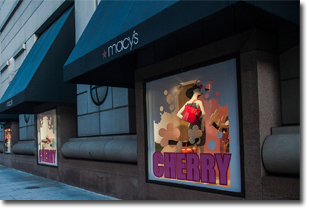 "I walk to work, and am amazed when it comes to the number of hungry people I see – especially early in the morning. Those people are in need of a hot meal," laments Robert Booker, VP/Store Manager at Macy's Metro Center.
"With this economy, there are people who didn't need help before, but do need help now," Booker says. "When I feel hungry, I know my hunger is temporary. I cannot imagine people not having access to a hot meal."
His personal experience and professional integrity spurred him to sign on as one of the top sponsors of the 2014 Blue Jeans Ball – the first time a fashion retailer is playing such a major role in helping solve hunger by supporting the one-of-a-kind event.
"It's a natural fit! Denim is fashion — and we are fashion," he says.
In its 11th year, the Capital Area Food Bank fundraiser has earned its reputation as a casual, yet high-end culinary fundraiser. Booker says Macy's is invested in the Washington region.
"As far as corporate giving is concerned, it is an obvious choice because of the number of Macy's stores we have in the DC area. And we want to build relationships with non-profit organizations we believe in," Booker says.
The Blue Jeans Ball will be held on April 13, 2014 at the Marriott Wardman Park Hotel , where guests can expect signature cocktails, tastings from restaurants and dancing to live music.
Last year's event raised $325,000 for the CAFB, with funds helping the food bank provide healthy, affordable meals to residents struggling with hunger in the Washington metro region.
"I have been living here [in the region] for 25 years. I came for a tour of the food bank and was very, very, very impressed with what they do. Once I saw the facility, it really showed me that this was the organization for us," Booker says.