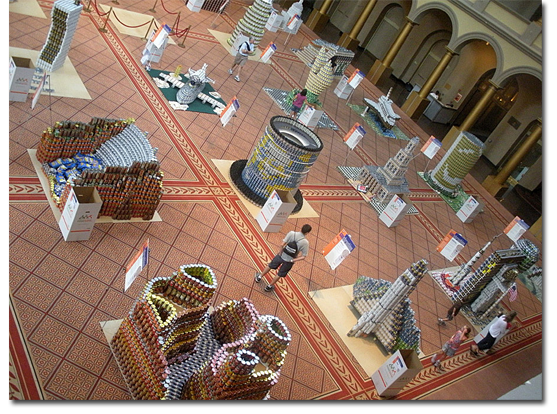 Canstruction teams raced against the clock Saturday to finish their structures within the time allowed. All rose to the task and left an impressive display of canned monuments on the first floor of the National Building Museum. Now teams must turn from canstruction to promotion as they vie for the highly coveted People's Choice Award.
Canstruction, an annual design competition among regional architectural firms, has teams "canstruct" structures out of canned goods. Fans then vote for their favorite canstruction by contributing to the team's Razoo page or by donating non-perishables to the team's bin located in the Building Museum. The team with the most "votes" wins the People's Choice Award. After the event, all contributions, as well as canned goods, are given to the Capital Area Food Bank.
Below are this year's participants. Click on the thumbnails below to see the project in full detail. Afterward, vote for your favorite canstruction(s) by clicking the link below the thumbnail.
---
Participants
Note, a few teams are still in the process of setting up their pages. We'll update the vote links as soon as their page is available.
AECOM

Give Us Your Hungry Vote

ASD

Monumental Voyage Vote

Barnes Vanze Architects

Grand Canyon Vote

Cannon Design

Can You Hear Me Now Vote

David M. Schwarz

Washington Can Tower Over Hunger Vote

EYP

All You Need Is Love Vote

Grimm & Parker Architects
Grand Canyon
Vote

Hartman-Cox Architects

Monumental Flight: Discovering An End To Hunger Vote

HOK
Abraham Lincoln: Memorial Hero In A Hat
Vote

Leo A Daly

To CAN-finity AND Beyond! Vote

McKissack & McKissack

The Hoover Can Vote

MV+A Architects

The Hoover Can Vote

Perkins + Will

A Colorful Meal Of Golden Proportions Vote

Rippeteau Architects

A Wedding Cake For All Vote

Robert Silman Associates

The Space Shuttle Vote

RTKL

Nourishing Bright Ideas Vote

SmithGroupJJR

Washingcan Monument Vote

Stantec

A Monument To An Era Vote

URS Corporation

Hunger… We Have A Problem Vote

WDG Architecture

To Bean Or Not To Bean Vote

Wiencek + Associates

One Small Step For A Can, One Giant Leap To End Hunger Vote