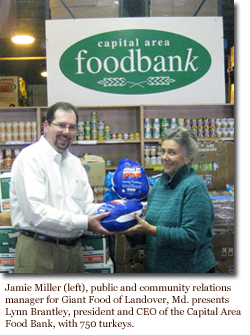 As Thanksgiving approaches, Giant has made a generous donation of turkeys to five food banks across the Mid-Atlantic region, starting with 750 turkeys to the Capital Area Food Bank this week.
This donation is in honor of Giant's 75th anniversary. Thank you, Giant. We appreciate your partnership in our mission to provide holiday meals to those we serve.
About Giant Food of Landover, Md. Giant Food LLC, headquartered in Landover, Md., operates 173 supermarkets in Virginia, Maryland, Delaware, and the District of Columbia, and employs approximately 22,000 associates. Included within the 173 stores are 159 full-service pharmacies. For more information on Giant, visit GiantFood.com.