President and CEO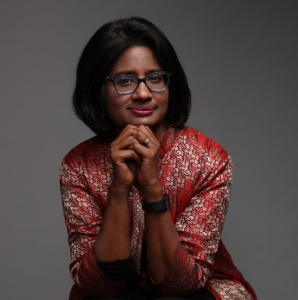 Radha Muthiah, President and CEO, joins the Capital Area Food Bank following a career spanning multiple sectors, where she has led and grown both start-up and established organizations in the US and internationally. As CEO, she leads a team that works to distribute over 30 million meals, directly and through a network of 450+ partners, to nearly half a million people in the greater Washington region each year. She is also focused on the growth of the food bank's long-standing partnerships; the creation of innovative new partnerships; and its groundbreaking work to ensure that food both addresses hunger and can be used to enable better health, education, and a pathway towards more inclusive economic growth in the region.
Most recently, Muthiah served as CEO of the Clean Cooking Alliance, a public-private partnership hosted by the United Nations Foundation to save lives, improve livelihoods, empower women, and protect the environment by creating a thriving global market for clean and efficient household cooking solutions. The Alliance works with a strong network of over 1,800 community, corporate, foundation, and government partners to accelerate the production, deployment, and use of clean and efficient cookstoves and fuels in developing countries. Under Muthiah's leadership, clean cooking rose steadily on the global development agenda and is now included in multiple Sustainable Development Goals and in dozens of countries' climate action plans.
Prior to joining the Alliance, Muthiah served as the Vice President for Strategic Partnerships and Alliances at CARE International, USA. A key aspect of her work was to recognize and build upon areas of strength and synergy for CARE and its partners to eradicate poverty through the empowerment of women and girls.
Muthiah has also worked at ICF International, the American Red Cross, Mercer Management Consulting, and the Council on Foreign Relations. She holds a bachelor's and a master's degree in economics from Tufts University and a Master of Business Administration degree from Stanford University.
Our Leadership Team
Christel Allen Hair, Senior Director of Major Gifts & Planned Giving, has served as an active member of the Capital Area Food Bank's senior management team for over 17 years, beginning as Director of Development in 1998 and becoming Chief Development Officer in 2002. She is responsible for cultivating and engaging those that want to impact the food bank mission and strategic objectives and creating, implementing and evaluating the food bank's fundraising program which includes direct mail; major gifts; foundation, corporate and faith-based giving as well as the annual Blue Jeans Ball.
Prior to joining the food bank, Hair excelled in both the nonprofit and private sectors. She began her career as an assistant buyer at Lord & Taylor in NYC and later a buyer at Woodward & Lothrop in Washington, DC, where she maintained multi-million dollar volumes in assigned departments, while also introducing new product lines. She significantly increased sales and improved ROI's and strengthened business performance analysis and forecasting.  She later moved on to a managerial role at INROADS Greater Washington part of a national program that secured talented minority youth and placed them in Fortune 500 corporate internships with the ultimate goal of permanent full-time positions after college graduation.
Hair earned her Bachelor of Arts Degree in Art History from the University of Virginia and is a Washington, D.C. native.
Mark A. Jacquez, Senior Director of Distribution Center Operations, joined the staff of the Capital Area Food Bank in 2008 to oversee operations of both the Northern Virginia and Washington, D.C. food distribution centers, where his responsibilities include transportation / logistics, inventory control, facility, fleet and equipment.
Jacquez's 30 years of experience before joining the CAFB included managing at a director level at Republic National Distributing Company, US Office Products and managing distribution center facilities for Trak Auto Corporation and Woodward & Lothrop department stores. Jacquez's operations' experience includes an extensive knowledge of distribution systems, routing software, inventory control, transportation, logistics, scanning and sorting systems.
He holds a Bachelor's Degree in Business Administration from Fairmont State University in West Virginia.
Les Johnson, Sr. Director of Human Resources, is responsible for Human Resources; with a focus on employee engagement, strategic staffing, diversity & inclusion, and compliance. Les joined the food bank in 2005, following a 15 year career in business, government contracting, and the non-profit sector.
Prior to joining the Capital Area Food Bank in 2005, Les worked in a variety of HR positions for organizations like Charles River Laboratories, W.M. Schlosser Co., Inc., and Applied Quality Communications, Inc.
Les holds a Bachelor of Arts degree in Communications from Prairie View A&M University in Texas, and a Master of Science degree in Human Resources Management from the University Maryland University College. Les is a member of SHRM (Society Human Resources Management), and the HRA-NCA (Human Resources Association of the National Capital Area). He is from Detroit, MI.
Melissa Schulz Goldbeck, CMA, CPA, Sr. Director of Finance, joined the Capital Area Food Bank team in early 2015.  In her current role, she leads the Finance Department in all fiscal operations including budgeting and forecasting, financial reporting and general accounting.
Schulz previously worked in agricultural lending and most recently in affordable housing.  She comes to the team with experience developing and overseeing operational budgets of up to $120 million and financial reporting for entities up to $600 million.  She has spent the last several years strengthening and leading turnabout in finance departments to build organizations' fiscal strength.
A California native, Schulz relocated to Washington DC in 2013.  She earned her Bachelor's Degree in Accounting and her Master's in Business Administration from California State University in Fresno.
Jody Tick, Chief Operating Officer, has been with the Capital Area Food Bank since 2006. In her current role, Tick is responsible for the daily management of the CAFB's operational work. She provides strategic direction and oversight of the acquisition and distribution of food; the organization's work with 444 food assistance partners and programs; a volunteer base of 26,000 individuals, and the development of information systems and metrics to inform decisions.
Tick's prior experience includes the management of food system-related programs and projects for Washington, D.C.-based nonprofits. Her work has focused on international and domestic hunger and poverty alleviation; the regulation of biotechnology; local food systems; domestic food safety; and the promotion of healthy food access to underserved communities.
She has served as chair of the District of Columbia Public Schools Office of Food and Nutrition Services Family and Friends Advisory Committee, and as a member of the Mayor's Commission on Food and Nutrition. Tick has a MSc. from the Agriculture, Food and Environment Program at Tufts University's Friedman School of Nutrition Science and Policy, and a BA in Environmental Analysis and Policy from Boston University.
Board of Directors and Leadership Councils
Peter Schnall, Chairman
Community Advocate
Denise Dombay, Vice Chairman
Community Advocate
John Huffman, Treasurer
Community Advocate
Tom Lofland, Secretary
Albertsons/Safeway
Greg Bingham
The Kenrich Group LLC
Amy Celep
Community Wealth Partners
Bob Cohn
The Atlantic
Eric Eisenberg
DLA Piper
Adam Goldberg*
Trident Advisors, PLLC
Felecia Love Greer Esq.
Pepco Holdings, Inc.
Larry Hentz, CBEP
Employ Prince George's, Inc.
John P. Hynes, Jr.
Applied Insight
George A. Jones
Bread for the City, Inc.
Carl L. Vacketta
DLA Piper
Johnny A. Yataco
Washington Hispanic
*Member of Awareness Leadership Council
Cathryn Le Regulski
DLA Piper
Noha Abdalla
Hilton
Kris Balderston
Balderston Strategic Partnerships
Ben Famous
Cava
Janet Goss
GMMB
Dyani Hanrahan
Giant LLC
Patti Reilly
Cabin8Communications
Lisa Osborne Ross
Edelman
Jamie Smith
The Linux Foundation
Jennifer Wayman
Hager Sharp