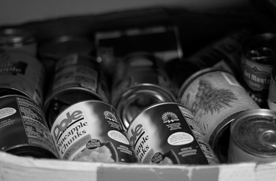 The Capital Area Food Bank receives over a million pounds of nourishing food throughout the year from food drives.
Top Reasons to Host a Food Drive:
They are a fun way to get involved in the community and everyone can participate!
For every 2 pounds of food donated, the CAFB can provide approximately one meal to individuals and families.
Donations go directly to those in need.
Each donation will help feed almost 500,000 residents struggling with hunger in the Washington metro area.
One person can make a difference by educating neighbors about the hunger crisis in the nation's capital.
Food Drive Kit:
Transportation:
As gas prices continue to climb and the food bank's limited resources are stretched, one should consider providing boxes and transportation while hosting a food drive. They are considered part of the donation.
Virtual Food Drive:
For those who want to host a food drive but don't have the time, the CAFB recommends trying a Virtual Aid Drive. Not only is it fast, easy and fun, it is also environmentally friendly. Virtual Aid Drives allow the CAFB to purchase fresh produce and food needed most by the community at wholesale costs. Learn more here.