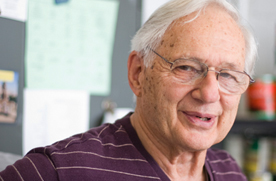 Thanksgiving meals are a luxury many low-income seniors can't afford.
According to the U.S. Census, 12.1 million senior citizens are at risk of or suffering from hunger by living at or below 185% of the federal poverty level.
In DC, as many as 40 percent of senior citizens are at risk of hunger.
The Capital Area Food Bank regularly works to fill the meal gap to provide these seniors with nourishing food, and we would like to go big for them on Thanksgiving Day.
Help Provide a Thanksgiving Meal
Every year we conduct a Thanksgiving campaign to provide seniors with a bountiful Thanksgiving food bag. Last year we were able to provide senior citizens in our Brown Bag Program with a turkey and five other Thanksgiving complements that typically make up this season's delicious holiday meal.

This year we have expanded our program to include more seniors; and since many seniors are helping to support other family members, we want to make sure we have enough food for their families as well. Our goal this year is to provide meals for 3900 senior citizens.
We are asking for your generous contributions to help us reach our goal and make this year a success by providing a Thanksgiving meal to our wonderful senior citizens.