Since 2020, the Capital Area Food Bank has produced an annual Hunger Report detailing the food-insecurity crisis in our region.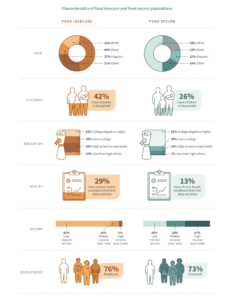 These data-driven reports have illustrated the widespread hunger challenges that existed before the pandemic began, and the staggering level of food insecurity that remains amid the slow, uneven economic recovery.
The food bank's latest report, published in September 2023, found that 32% of the Washington region – more than 1.2 million people – didn't always know where their next meal would come from at some point last year. That's essentially unchanged from the 33% of respondents who reported experiencing food insecurity in the food bank's 2022 survey.
The data in the food bank's Hunger Report 2023 are from a general population survey of nearly 5,300 residents that was conducted by the Capital Area Food Bank and NORC at the University of Chicago, one of the most trusted independent social research organizations in the country.
These reports have been intended to help inform and accelerate work being done to advance food security and increase equity in the greater Washington area.
In addition to describing the scope of the hunger challenges across our region, each includes recommendations for actions that every sector can take to address widening socioeconomic divides and create a region in which more people can thrive.
Explore our Hunger Reports