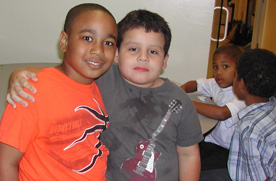 We partner with programs working in community centers, schools, churches, Boys & Girls Clubs, and Parks & Recreation locations that are serving communities were at least 50% of the children in local schools are eligible for free or reduced-price meals. Our partners distributed the bags each week.
The food bank offers a variety of training opportunities for site leaders and their participants. (Link to A3 and to Healthy Eating's programs).
The impact of the Weekend Bag program is seen by site leaders and school administrators. Ms. Carol Cantu, Principal at Riverdale Elementary School in Prince George's County, has said this about the Weekend Bag program: "While this initiative seemed to be a little taxing in the beginning: getting organized, preparing the space, identifying the best students… We can see that it was worth the effort. The students look forward to the bags and they were especially excited to get double before the holiday. Believe it or not, attendance has improved on the delivery days, because students do not want to miss their bags."
In Virginia, 38.1% of students enrolled in public school receive free or reduced price lunch at school. These numbers are higher in some areas served by Kids Cafe: for example, Alexandria has 53.2%.
In Maryland, 41.8% of students receive free or reduced price school lunch. Prince George's County, which is served by Kids Cafe, has an even higher percentage of students receiving free or reduced price lunch than the state average: 57.3%.
Through Feeding America, teachers in schools that participated in a Weekend Bag program were surveyed. A majority of them reported that students receiving weekend food had better relationships with other students, were healthier, showed more interest in school, were less worried, had better self esteem and were more secure, and had better relationships with school personnel.