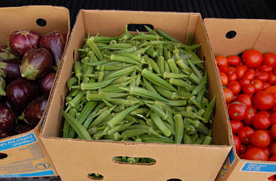 The Fresh Produce Grant brings high quality produce to low income communities throughout Washington DC, Maryland, and Northern Virginia! Every year, partner agencies of the Capital Area Food Bank are encouraged to apply for the Fresh Produce Grant. The opportunity is offered to organizations that have the structure and capacity to efficiently distribute a variety of high quality produce to the individuals they serve. Along with access to many different fruits and vegetables, participants receive support and materials to provide educational opportunities to clients.
This program connects the fresh produce of local farms with a variety of Capital Area Food Bank partner agencies including: food pantries, clinics, after-school programs, soup kitchens, and shelters. Through this partnership, the food bank is able to provide more nutritious food across Greater Washington, contributing to health and wellness.
Applications for the 2016 season of the Fresh Produce Grant will be accepted from February 22nd to March 13th. Applicants will be notified by April 1st. Please feel free to contact the 2016 Fresh Produce Grant coordinator, Kevin Longhany, at klonghany@capitalareafoodbank.org or 202-644-9846.
Apply for the 2016 Fresh Produce Grant here!
---
Testimonial
Our clients have benefited greatly from our involvement in the Fresh Produce Grant through the Capital Area Food Bank. Access to such a large quantity of quality organic produce, coupled with our Nutrition Education Program has not only provided our families with great local healthy food, it has made them more willing to try new fruits and vegetables."
—Stephenie Hart, Director of Food and Nutrition, Lorton Community Action Center

---
Benefits of the Fresh Produce Grant
At no charge, participants receive up to 40 different kinds of seasonal fruits and vegetables throughout the growing season
In 2015, on average, each participant received over 3,700 pounds of produce.
The produce is organic and locally grown using sustainable practices
The food bank provides educational resources, such as recipe cards, to help participants educate their clients about the produce.
History of the Fresh Produce Grant
The Fresh Produce Grant began over 20 years ago, when the Capital Area Food Bank partnered with the Chesapeake Bay Foundation, a non-profit that owns Clagett Farm. In 2000, the FPG expanded to include Waterpenny Farm near Sperryville, Virginia. Through this partnership, the CAFB, Clagett Farm and Waterpenny Farm share costs to grow produce and, in turn, to connect this produce to partner agencies through the Fresh Produce Grant.
---
2015 Participants