Curbside Groceries is a mobile grocery truck bringing groceries for sale to areas experiencing transportation barriers and gaps in accessibility of affordable, nutritious food.
The Food Store That Comes to You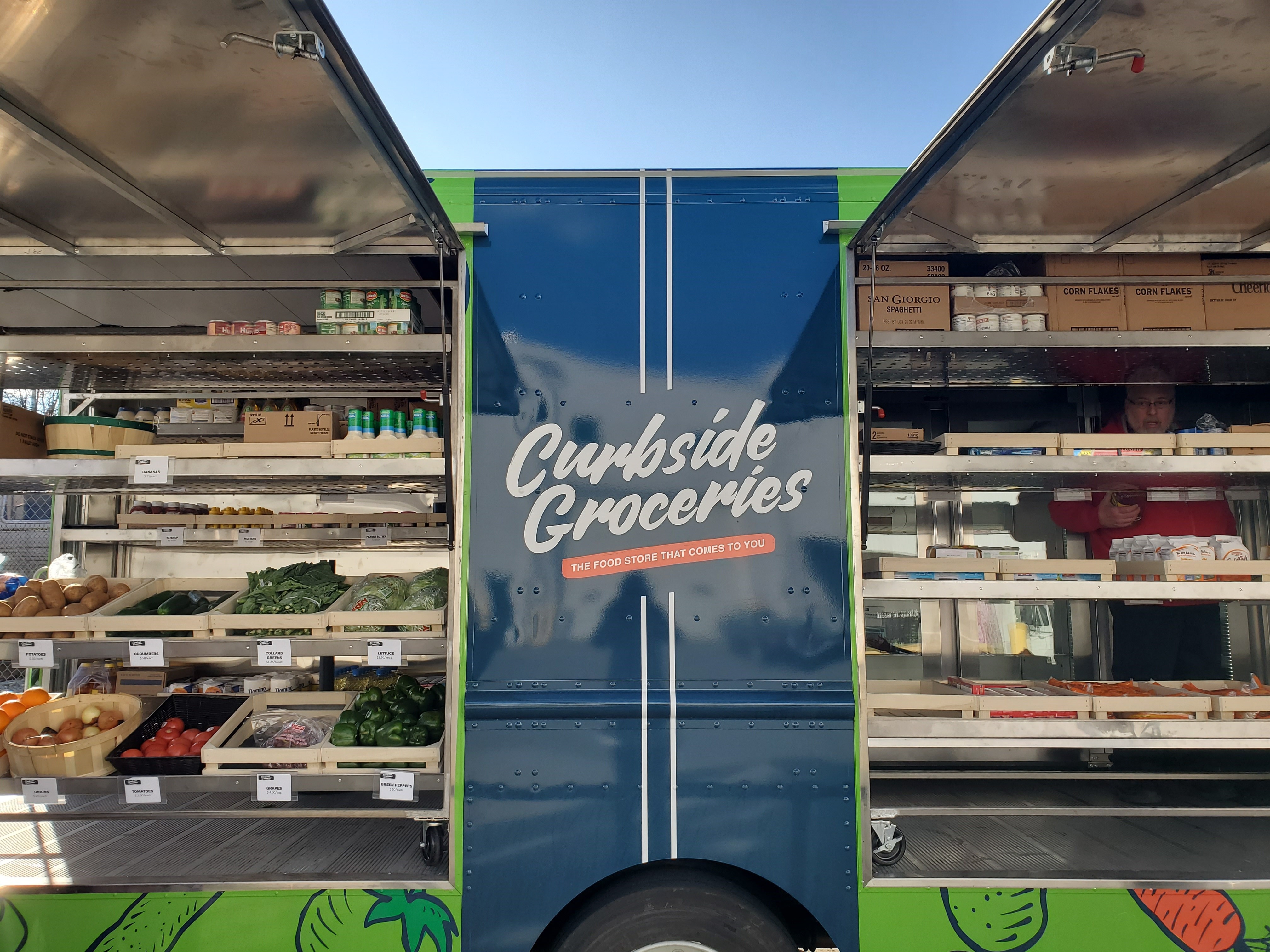 Servicing neighborhoods across Ward 8 with few retail grocery options, Curbside Groceries delivers a full market basket of goods and groceries year-round – including fresh fruits and vegetables, dairy, proteins, and pantry staples.
Presented by a coalition of partners including the Capital Area Food Bank, Giant Food, and the A. James and Alice B. Clark Foundation, Curbside Groceries delivers a full market basket of goods and groceries year-round.
Reopening & Safety Update
Curbside Groceries has resumed operations at select partner sites in Ward 8, three days per week. Out of an abundance of caution and care for the safety of all customers, Curbside Groceries will adapt its operations by increasing sanitation measures, and putting other protocols in place to comply with Mayor Muriel Bowser's social distancing regulations for food sellers and farmers m€arkets.
Customers are asked to help us keep Curbside Groceries safe for all shoppers.
Maintain six (6) feet distance from any person who is not part of your household.Wear a mask or some form of mouth covering (such as a scarf or wrap).
Patrons will not be able to enter the truck; a Curbside team member will fulfill orders.
Only send one member of your household to the truck, if possible. Leave pets at home.
Cough or sneeze into your elbow, and away from other people.
Do NOT visit the truck if you have a confirmed COVID-19 diagnosis or are exhibiting a symptom of any transmissible infectious disease, such as a cough, fever, or a runny nose.
Thank you for your patience with us as we shift and adapt operations during this emergency. We will continue to keep you informed about service dates and times and appreciate your partnership.
Visit Us in a Neighborhood Near You
Tuesday
Anacostia High School
1601 16th Street SE
10:00 AM – 2:30 PM
Ingenuity Prep Public Charter School
4600 Livingston Road SE
3:30 – 7:00 PM
Thursday
Hart Middle School
601 Mississippi Avenue SE
10:00 AM – 2:30 PM
Ballou High School
3401 4th Street SE
3:30 – 7:00 PM
Saturday
New Parkchester Housing Cooperative
2900 Pomeroy Road SE
9:00 AM – 11:00 AM
Mary Virginia Merrick Recreation Center
4275 4th Street SE
12:30 – 4:00 PM
The first two hours during the morning of each operational day are reserved for senior shoppers. Thank you for your patience as we work to keep our seniors safe.
*Locations and dates are subject to change.
About Curbside Groceries
The goal of Curbside is to provide an affordable, high-quality mobile grocery shopping experience for residents in DC's Ward 8.
In a survey of 2,000 people across the Capital Area Food Bank's service region, 90% of respondents were interested in purchasing groceries and prepared meals for themselves if offered at affordable prices and within easy walking distance of their home, work, or school. They also wanted an option that would provide a full market basket of food that would be available throughout the year, as opposed to seasonally. This survey helped to identify gaps that a mobile retail model is uniquely positioned to fill.   The addition of a mobile retail grocery option is intended to remove transportation barriers, create access to healthy food, and enable healthier diets for all residents in the Ward.
Curbside Groceries also aims to encourage additional investment in the creation of affordable retail options for Ward 8 residents.  The initiative aims to prove there is a market for alternative format grocery stores that can provide viable returns and meet a social need in areas that currently lack access of affordable, healthy food.  The food bank will be tracking costs, margins, and other data to share with impact investors and entrepreneurs in efforts to encourage greater investment in the region.
Curbside Groceries will provide a shopping experience unlike anything currently unavailable in the areas along its route. Customers will have their choice of high-quality fresh foods and pantry staples, from fresh fruits and vegetables to dairy and proteins at affordable prices, offering those who wish to purchase their food a convenient way to do so.
The mobile grocery truck's innovative design allows for customer to shop at Curbside Groceries from inside and out. Its shelves will be fully stocked with produce, dry and canned goods, kid-friendly snacks, baking needs, toiletry essentials, and more. In the refrigerator, customers will find a high-quality selection of meats and other proteins, as well as dairy products and beverages. Curbside Groceries will accept cash, credit, debit, and EBT payments.
We used data about food insecurity and food access in Ward 8, along with information about transportation and proximity to schools and apartment buildings in order to identify the neighborhoods that would most benefit from Curbside Groceries. Data shows that many neighborhoods in Ward 8, especially those identified for Curbside Groceries stops, face barriers to transportation and access to affordable, healthy food. The Curbside Groceries route was also determined through wide consultation with the community and area partners currently active in the area, including Arcadia, which delivers produce in Ward 8.
Curbside Groceries is presented through a partnership between the Capital Area Food Bank, Giant Food, J. Willard and Alice S. Marriott Foundation, and the A. James and Alice B. Clark Foundation.
The Curbside Groceries team will facilitate customer satisfaction surveys to Curbside Groceries patrons to gather feedback about the Curbside Groceries shopping experience, quality of inventory, and other aspects of the program. This information will be gathered on a regular basis to continually ensure that Curbside Groceries offers the best customer experience.