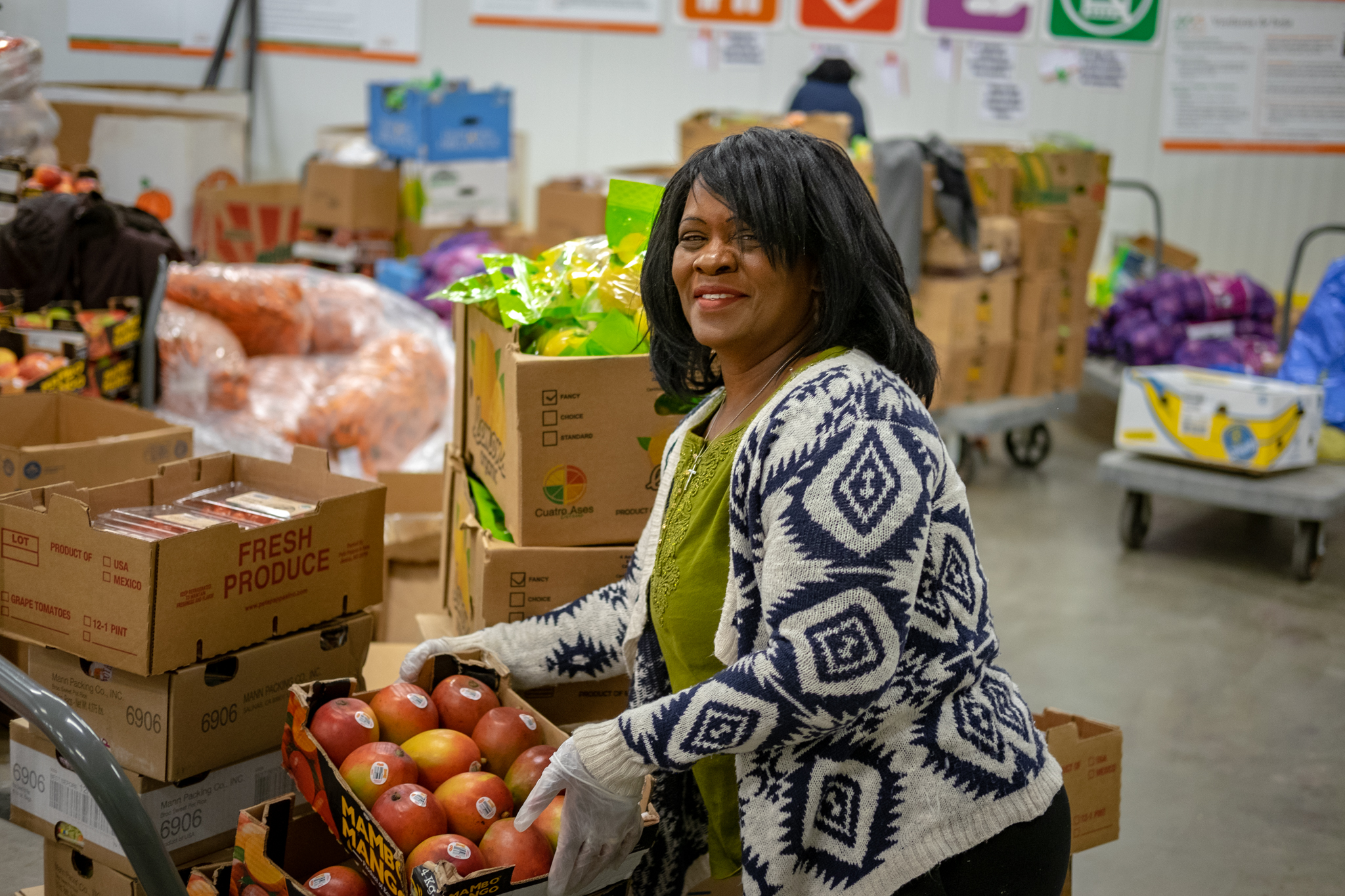 "Use food as your medicine" – that's what Mary Roach tells the people who come to the pantry she runs in partnership with the food bank. And with the produce and other nutritious options the pantry is able to provide, along with advice from their doctor, they can.
Several years ago, when Mary's husband was ill, the two of them focused on diet to help manage his health. Over time, his doctors approved a reduction in his medications for diet-related illness from eight down to two. Mary wanted to help others do the same – especially those struggling with hunger. Today, she pairs the fruits, vegetables, and other healthy groceries provided at the pantry with nutrition education, and she's seeing a real difference. "Lots of the people we serve tell me they're feeling better than ever, are better equipped to manage diabetes and other health issues, and are working with their medical providers towards their own reduced need for medication," Mary says.
One of those people, Rosa C., attended Jehovah Jireh for the first time a few months ago after a difficult year that included the loss of her husband of 54 years. The 76-year-old had already struggled with Type-2 Diabetes and a lack of access to consistent food in retirement, and her grief added a heavy burden. Her physical and mental health suffered. She no longer went on her daily walks, because that was an activity she had done with her husband, so she gained weight. She was sluggish most of the time.
But when Rosa learned about Jehovah Jireh through a friend, things began to get easier. She found a community to exercise with, healthy food options to eat, and nutrition education to help her prepare healthier meals. She's lost 30 pounds, has worked with her doctor to cut some of her medications, and says she's been revitalized both physically and mentally to manage her diabetes. "To quote my spiritual sister, Maya Angelou, 'When we know better, we do better.' I've learned better. So I'm doing better. Jehovah Jireh and Mary are a big reason why."
Another member of the Jehovah Jireh community, Spring G., is using food and nutrition to regain her health to re-enter the workforce. Spring is in her 60s and was forced to quit her job last year due to poor health. But since attending the food pantry, she's began to feel much better. She's eating more fruits and vegetables. And with a focus on nutrition education, she notices she is able to find unique ways to utilize all the food. When she gets extra apples or oranges, she puts them in a juicer. When avocados are in abundance, she slices and freezes some and then puts them in smoothies or soups.
The result: a noticeable improvement in her health and energy levels. "Eating well is giving me energy to do things. Like this morning, I got up, I did 30 minutes of exercise. Then I made oatmeal with walnuts, raisins and apples. And now I'm here. And I'm energized!" Spring is hoping that within the next few months, she'll be healthy enough to search for jobs.
Stories like these are why Mary does what she does. "I see food make all the difference, and I'm proud to be working together to help the community that needs it."