Solving hunger takes everyone – something our corporate partners understand and demonstrate a commitment to every month of the year. With so many rock star businesses working to help moms, dads, kids, and seniors in our area, we can't help but want to share what some of them are doing.
This spring and summer, we've seen some of our Northern Virginia business partners stepping up to the plate in particularly big ways. Here's a sampling: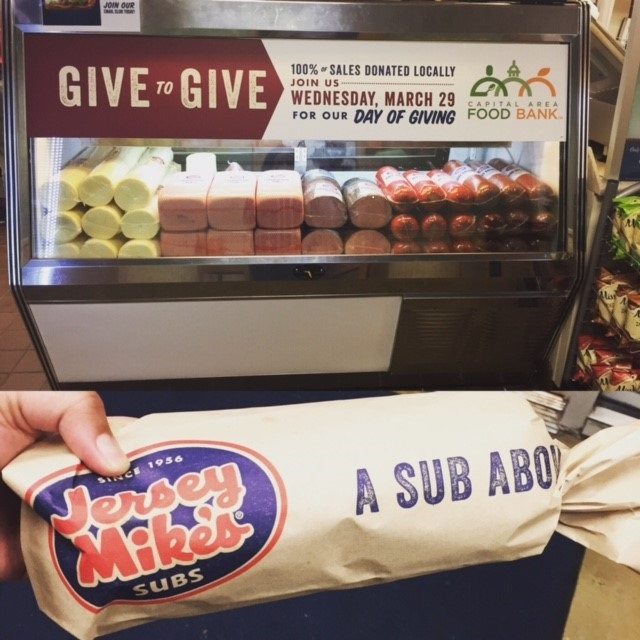 Jersey Mikes pulled together a month-long effort to close hunger gaps across the region. During their "Month of Giving" Campaign, Jersey Mike's employees encouraged customers to donate meals each time they purchased a sub sandwich.  Staying true to their motto to go "a sub above", franchise owner Pat Foley even donated 100% of his sales to the food bank during a capstone day of the campaign. Proceeds from the Month of Giving provided over 88,000 nutritious meals to children and families throughout Northern Virginia.


Elsewhere in Virginia, Fairfax County Consolidated Community Funding Pool helped kids and their parents form lifelong healthy food habits by sponsoring Family Markets at three schools in Fairfax County. Family markets are free monthly school-based markets where parents and kids can select fruits, vegetables, and other groceries together. Markets also have live recipe demonstrations, and participants go home with food bank recipe cards that make it easy to use the food they've received.  With the funding provided by FCCCFP, 25,000 pounds of food made its way onto the tables and plates of families in schools within regions 1 and 2 of the Fairfax County each month.


Partnerships like these are critical for the food bank and the people it serves. Because of them, nutritious meals make their way to children, seniors and families in need – especially important when kids are out of school, and the free breakfast and lunch that many children rely on becomes unavailable.
Our deepest appreciation to both of these corporate friends, and others like them making a difference!
Together we can solver hunger.
If seeing what some of our amazing partners are doing inspires you to get your company involved, give us a call at 202.644.9809