On the first day of Health Ambassadors we asked our partners the question, "What is your biggest health concern in the communities you serve?" What we heard back from our partners was a resounding desire to further address the needs of clients who were diagnosed with diet-related illnesses such as diabetes, heart disease and hypertension. While the Health Ambassadors curriculum addresses these issues, many of our students were looking to take their newly-acquired knowledge further.
For 12 partner agencies, we have been able to help them pair nutrition and diet-related illness education with tangible resources such as food and toolkits to distribute to clients. As a part of the Healthy Eating Active Living grant we received from the Prince George's County Department of Health, we have been able to work directly with these agencies to promote healthy eating habits specifically for clients living with and at risk of developing diet-related illnesses. Prince George's County residents know how critical it is to address health risks, especially for people living in poverty who are far more susceptible to diet-related illnesses. In Prince George's County, 3 of the 5 leading causes of death are due to diet-related illness complications, and the numbers become more grim when you factor in low-income status.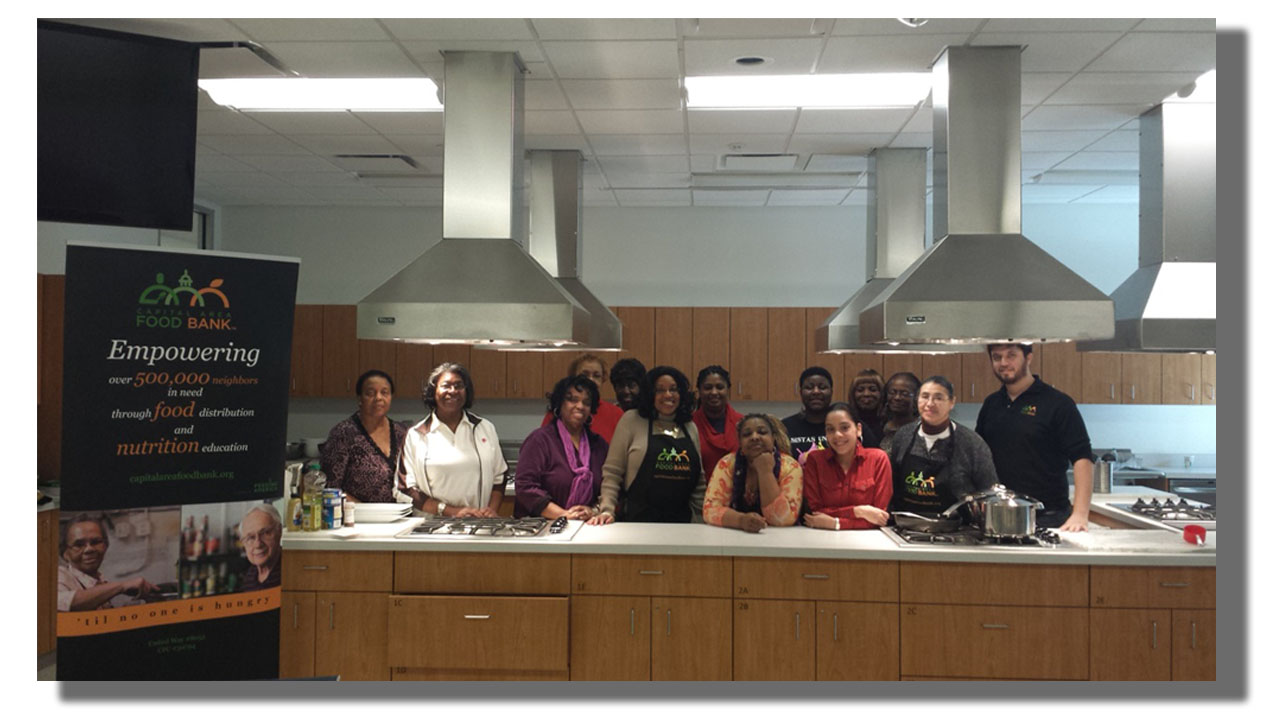 Our partner agencies know more than anyone that the risks are high and the need for education around food, health and nutrition is critical. In addition to the extra resources these 12 partner agencies are receiving, they have also made community partnerships and several of them are hosting health fairs, have volunteer nutritionists working with them and are doing additional projects that work to improve the health of their clients. We are extremely grateful for the hard work that they do in their communities and are excited about the potential of this project to incite further changes to individual health outcomes in the specific zip codes they serve.
If you or someone you know lives in any of the following area codes: 20710, 20722, 20743, 20744, 20745, 20746, 20747, 20748, 20781, 20783, 20785, is in need of food and has a diet-related illness, please contact one of these 12 partner agencies for assistance:
Pennsylvania Ave. SDA Church
4010 Belt Rd.
Capitol Heights, MD 20743
Weds. 2-6pm (every other week)
301.249.2374
SHABACH! Emergency Resource & Empowerment Center
2101 Kent Village Dr.
Landover, MD 20785
By Appt. Mon-Fri 11am-2pm
301.322.9593
Grace of God Ministries
3950 48th St.
Bladensburg, MD 20710
Thurs. 6:30pm-7:45pm
301.277.1733
River Jordan Project
5900 Old Branch Ave.
Temple Hills, MD 20748
Call for distribution dates/times
301.873.8704
Gethsemane UMC
910 Addison Rd, South
Capitol heights, MD 20743
Mon, Tue, Wed 10am-11:45am
301.336.1219
Sistas United, Inc.
4725 Silver Hill Rd.
Suitland, MD 20746
2nd & 4th Weds. 4:30-6:00pm
240.423.0958
Triumphant Church
6509 Riggs Rd.
Hyattsville, MD 20783
Mon-Fri 2-5pm
301.559.2200
Mt God Tabernacle
4315 Baltimore Ave.
Bladensburg, MD 20710
Call for distribution dates/time
240.701.1539
Mt. Victory Baptist Church
6020 Addison Rd
Seat Pleasant, MD 20743
Call for distribution dates/time
301.735.8852
True Vine
4542 Beech Rd.
Temple Hills, MD 20748
Weds. 11:30am-3pm
301.702.0070
Theocracy International
505 Hampton Park Blvd, Ste. T
Capitol Heights, MD 20743
Call for distribution dates/time
301.655.3405
Metropolitan SDA
6307 Riggs Rd.
Hyattsville, MD 20783
Call for distribution dates/time
301.853.2225