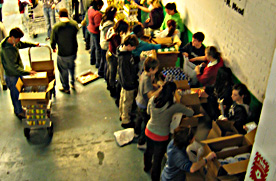 We offer opportunities for individuals and groups at our NOVA Warehouse. Our specific accomodations can be found on the calendar. These projects typically involve but are not limited to:
Packing and Sorting: Donated food is inspected for quality and either sorted into bins or re-packaged into useable sizes for our agencies.
Shopping Floor/Loading Docks Volunteers: Volunteers help on our loading docks assisting partner agencies in picking up their orders & stocking shelves. Volunteers also are used to maintain the warehouse and assist in keeping the warehouse clean.
Administrative Tasks: Volunteers are also used to work on general office tasks such as data entry, stuffing envelopes and filling paperwork.
NOVA Warehouse Hours:
Tuesday, Wednesday, and Thursday: 1:00pm-4:00pm
Every 2nd Saturday: 9:00am-12:00pm
NOVA Kids Cafe Packing:
Tuesday: 1:00pm – 3:00pm
If you would like to volunteer, please click on the button below to schedule a time.
Youth Volunteers
All volunteers must be 12 years of age or older and have a waiver signed by a parent or guardian to participate. Any volunteer between the ages of 12-16 must be accompanied by an adult. If you have any questions regarding volunteering at our DC warehouse or want to set up a special volunteer activity, please contact the volunteer department via email at volunteer@capitalareafoodbank.org or call 202-644-9841. All youth volunteers must schedule their participation through the Volunteer Programs Department to ensure we have waivers on file for everyone.