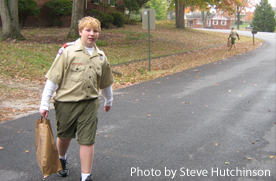 Scouting for Food is an annual Boy Scout led food drive covering the entire Washington, DC metropolitan area.
On Nov. 2, Scouts distribute plastic bags to homes in Maryland and Virginia, and flyers at District of Columbia residences. Scouts then return a week later to homes to pick up the food. Since the program launched in 1987, Scouts have collected millions of pounds of non-perishable food items to provide for people in need.
---
Event Times and Location
Saturday, November 2 – Bag distribution in the District of Columbia, Maryland and Virginia.
Saturday, November 9 – Bag/food collection; Scout appearances at participating Safeway locations in the District of Columbia:
6500 PINEY BRANCH RD NW
4865 MAC ARTHUR BLVD NW (Palisades)
4203 DAVENPORT ST. NW (Friendship Heights)
415 14TH STREET SE (Capitol Hill)
2845 ALABAMA AVE.SE (Good Hope, Naylor, Ft. Stanton)
1747 COLUMBIA RD NW (Adams Morgan)
1100 4th ST., SW (Waterside, Arena Stage)
490 L STREET, NW (NOMA)
1855 WISCONSIN AVE (Georgetown)
322 40TH STREET NE (Fort Dupont, Minnesota Ave)
1601 MARYLAND AVE. NE (Hechinger Mall)
---
Background
Thanks to the National Capital Area Council (NCAC) and Boy Scouts of America (BSA), Scouting for Food marks 26 years of nourishing the area's hungry. The Capital Area Food Bank is proud to team up with NCAC, BSA, WUSA-TV, Safeway and The Washington Examiner to help continue filling the food bank's shelves through this event.