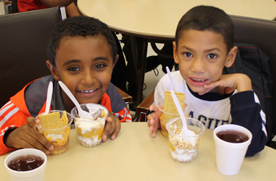 We partner with afterschool and summer programs working in community centers, schools, churches, Boys & Girls Clubs, and Parks & Recreation locations that are serving communities where at least 50% of the children in local schools are eligible for free or reduced-price meals. All of our partners offer some sort of enrichment activities for youth (homework help, mentoring, tutoring, garden clubs, computer skills, and more).
Our partners tell us that the food is a major incentive for children and teens to come to their sites. Once they are there and have a hearty snack and a supper, they will also stay for the programming. Little Lights Urban Ministries, DC Kids Cafe site has told us that, "our students love the food so much that when students come for Homework Club, one of the first things they often do is ask staff what is for snack and dinner."
Children and Food Insecurity
According to the USDA, nearly one in four children in the United States lives in a food insecure household, which means the members of that household are not able "to consistently access the adequate amount of nutritious food necessary for a healthy life."
Families with children are more likely to struggle to get enough food: while 14.7% of all households experience food insecurity, 21.3% households with children experience food insecurity.
However, these are national averages. In Washington DC, the rate of child food insecurity is 32%. That rate is 17.8% in Maryland and 17.6% in Virginia. This means that in the DC Metro area, which is served by the Capital Area Food Bank, more than 600,000 children cannot consistently access adequate amounts of nutritious food.
The Great Recession and Increased Need for Food
In 2009 there were 43.6 million Americans living in households with incomes below the poverty level, including 15.5 million children. U.S. Census data reveals that from 2009 to 2010, that number increased to 16.4 million. Child poverty rose from 20.7 percent in 2009, to 22 percent in 2010.
One in every five children in the US lived in a family that received emergency food assistance through food pantries, kitchens, and/or shelters. That represents 14 million children.
In federal fiscal year 2009, 48% of all SNAP (formerly known as food stamps) recipients were children. 9.1 million women, children, and infants participated in WIC. Over 101,000 schools operate the school lunch program, and at those schools, 19.5 million low-income children received free or reduced meals at their school. To qualify for any of these programs, families must demonstrate that they are low-income.
The Effects of Hunger on Children
Low Nutrient Food
When families are food insecure but have limited money for food, household food managers (usually mothers), trade off food quality for quantity to prevent the members of the household, particularly children, from feeling persistently hungry.
Typically, less expensive and filling foods are higher in calories and lower in nutrients. Foods with more nutrients and lower calories (like fruits and vegetables) are typically more expensive. This means that children whose families are food insecure may be at a higher risk for nutrient deficiency (like iron deficiency anemia).
The fact that high calorie and low nutrient food is less expensive may be a reason that low income families are at a higher risk of being overweight.
Poorer Health
In a long term study on child hunger and its impact on health, children who had ever experienced hunger, even once, were 2 ½ times more likely to be in poor health compared than those who had never experienced hunger. Children who had experienced hunger were also 38% more likely to have been diagnosed with a chronic health condition (heart condition, cerebral palsy, epilepsy, kidney disease, asthma, bronchitis, or allergies) than children who had never been hungry. 27.1% of children who had experienced hunger had been diagnosed with asthma, compared with 11.1% of never-hungry children.
Food insecure children have 31% greater odds of having been hospitalized since birth than children in households that are food secure. The average pediatric hospitalization costs approximately $12,000.
Difficulties in School
Being food insecure keeps children from learning, and they fall more and more behind over time.
The Early Childhood Longitudinal Study followed more than 21,000 children from kindergarten through third grade. They found that in just three years, children who had been food insecure in kindergarten had lower reading and math scores than their peers who had not been food insecure. Children who are food insecure and hungry are twice as likely as those who are not hungry to be receiving special education services.
Hunger also keeps students from thriving in their classrooms and with their peers.
Studies found that children 6-11 years old in families that did not have enough food were more likely to have been held back a grade, to have seen a psychologist and to have more difficulty getting along with other children than children from food secure families. Likewise, teens without enough food at home are more likely than their food secure peers to see a psychologist, get suspended from school, have difficulty getting along with other students, and to have attempted suicide.
Teachers report higher levels of hyperactivity, absenteeism, and tardiness among hungry children.
Serious Long Term Consequences and Lost Productivity
For school age children, hunger is associated with higher risk of anxiety. By elementary school, research has found that children who are hungry are four times more likely than non-hungry children to have a history of needing mental health counseling; seven times more likely to be classified as clinically dysfunctional, seven times more likely to get into fights frequently, and twelve times more likely to steal. These problems can lead to contact with the criminal justice system.
Children who struggle in school with lower grades, difficulty socializing with their peers, and repeating grades, all difficulties more likely when those children are hungry, are more likely to drop out of high school. In 2006, the median annual income for a high school dropout was $18,868; that is $8,516 less than a high school graduate and $27,567 less than a college graduate.
Kids Cafe Can Help
A study by the Center on Hunger and Poverty at Brandeis University evaluated the Kids Cafe program by speaking with program directors, parents and family members, and youth receiving food at Kids Cafe sites all over the United States. It found that receiving food from Kids Cafe meant better learning, health, and behavior. Two thirds of children surveyed about Kids Cafe said they felt better since going to Kids Cafe. The top improvements they reported were earning better grades at school, feeling more energetic and less tired, having better concentration, and feeling less grouchy. 77% of parents/caregivers reported that their child's learning had improved since going to Kids Cafe and 68% reported improvements in their child's physical health.