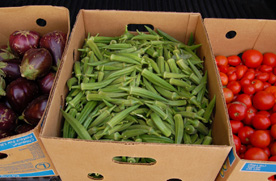 The Fresh Produce grant brings the freshest and highest quality produce to the people who need it most. This program connects the fresh produce of local farms with Capital Area Food Bank member agencies including: food pantries, clinics, after-school programs, soup kitchens and shelters. The Fresh Produce Grant is offered annually to exceptional agencies with the organizational structure and facility to efficiently distribute a wide variety of high quality produce to the individuals they serve. See the 2012 fresh produce recipients below.
This program has a springboard effect. Because this produce tastes so good, many clients notice the difference. After receiving the grant some organizations create their own initiatives to get more fresh produce from local farms. See this quote from one of our past Fresh Produce Grant recipients:
The food grant with Clagget started us on a road away from canned vegetables toward local, fresh produce. Now, the vast majority of fruits and vegetables we use are fresh from the ground and most often from local farms. We realized the nutritional value in using fresh produce, even though it can be more work, and saw the economic benefit of buying direct from local farmers. Through our new local buying initiatives, we are not only feeding people in Washington, but also the farming families we support. The FGU grant opened our eyes to these possibilities, and it has forever changed the way we feed our clients and spend our money.
—Erin Littlestar, Procurement Director at DC Central Kitchen in the Fresh Produce Grant 2009
---
Other Benefits of the Fresh Produce Grant
Over 40 different kinds of seasonal fruits and vegetables
Bi-weekly pick-ups
Each organization receives approximately $8,500 of produce per season
Educational opportunities: sustainable agriculture, food preparation, recipe and nutrition information
All the produce distributed is grown using sustainable growing practices and is either certified organic or chemical-free
---
Fresh Produce Recipients