For media inquiries or to learn more about our media efforts, contact us at (202) 644-9830.
Media Coverage
September 15, 2014 – U.S. Treasury – Secretary Lew Commemorates AmeriCorps Anniversary
September 12, 2014 – Washingtonian – Capital Area Food Bank's 7th Annual Empty Bowls
September 10, 2014 – Alexandria News – Local Mormons Respond To Governors' Call To Feed The Hungry And Heal The Planet In Mid-Atlantic Day To Serve
September 3, 2014 – Voice of America – USDA: Hunger Threatens 1 in 7 Americans
September 2, 2014 – The Washington Post – Canstruction at the National Building Museum lets architects show off their can-building skills
News Releases
9/26/2014 – Capital Area Food Bank Hosts Northern Virginia Hunger Summit
The Capital Area Food Bank is hosting its 11th Annual Northern Virginia Hunger Summit that will highlight the food bank's commitment to health and wellness as among its primary strategic goals. The summit will convene food experts and practitioners to identify best practices and barriers for individuals who want to take control of their health through home cooking. Attendees will then be treated to a live cook-off, featuring four local chefs competing to make the tastiest meal using CAFB ingredients.
9/15/2014 – The Capital Area Food Bank Teams With Walmart, Feeding America to "Fight Hunger. Spark Change."
The public can help the Capital Area Food Bank win a $60,000 grant from Walmart as part of "Fight Hunger. Spark Change." a nationwide campaign that launched today at food banks across the country. The initiative will provide a total of $3.7 million to Feeding America and participating food banks that provide hunger relief to millions of people in need of food assistance.
7/7/2014 – Washington Nationals to Visit the Capital Area Food Bank
Pitchers Jerry Blevins and Craig Stammen will team up with children from Jubilee Housing Teen Renaissance to participate in CAFB's Kids Cafe to prepare healthy snacks that can be enjoyed while watching a baseball game. The Kids Cafe program provides free, healthy meals and snacks to more than 2,000 children and teens daily after school and over the summer at nearly 90 locations in the Washington metro area.
---
Logo Usage
The color logos can be used against black, white or other solid colored backgrounds but make sure the logo does not disappear against the background. When choosing logo options, be sure to show contrast but make sure the logo and font are light enough and large enough to read. If you are in doubt, use lighter background colors.
Color Logos: To be used in all communications that are two or more colors, including newsletters, e-mail notices and all other collateral.
Black and White Logo: To be used in faxes and all black and white documents.
Feeding America Lock up: There are two options when using the "A member of Feeding America" lock up.
You can use a logo that already has the lock up:
Or you can place the Feeding America tag yourself, which allows for more flexibility. When choosing this option, "A Member of Feeding America" should always be 50 percent of our logo and appear in the lower right corner, as seen below:
Formats: The CAFB logo is available in JPEG and EPS, also known as hi-res formats. We should always include "A Member of Feeding America", which should be 50 percent of our logo and appear in the lower right.
The logo is proportional so if you need to increase or decrease the size, please right mouse click, click "size and positioning" and change by clicking the arrows next to height, which makes changes by point. It will alter logo proportionally.
Do not change the size of the logo by dragging the box. Dragging causes the logo to appear distorted. The logo below is distorted because the box was dragged.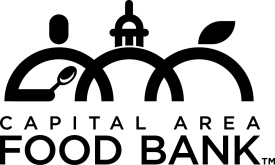 Our logo should be used in the hero position and should be centered – at the top, bottom or in the middle of a page.