Media Coverage
News Releases
1/31/13 – Safeway Invites Customers to "Round Up" Hunger in Our Community Throughout February
Safeway is again out to prove that a little change can go a long way to help neighbors in need with its annual Round Up Hunger campaign.
1/9/13 – Nancy E. Roman Succeeds Lynn Brantley as President and CEO of the Capital Area Food Bank
Nancy E. Roman, formerly a senior executive with the United Nation's World Food Programme (WFP), is the Capital Area Food Bank's new President and CEO. She succeeds Lynn Brantley who retired at the end of 2012, after leading the hunger relief efforts in the Washington metro area since 1980.
12/13/12 – Rent-A-Center Matches $5,000 Gift from Anonymous Donor Earmarked for Freezers to Capital Area Food Bank, Partner Agencies
In a generous move, Rent-A-Center recently matched a $5000 donation from an anonymous donor and will deliver 35 new Kenmore freezers to the Capital Area Food Bank and 13 of its partner agencies.
---
Logo Usage
The color logos can be used against black, white or other solid colored backgrounds but make sure the logo does not disappear against the background. When choosing logo options, be sure to show contrast but make sure the logo and font are light enough and large enough to read. If you are in doubt, use lighter background colors.
Color Logos: To be used in all communications that are two or more colors, including newsletters, e-mail notices and all other collateral.
Black and White Logo: To be used in faxes and all black and white documents.
Feeding America Lock up: There are two options when using the "A member of Feeding America" lock up.
You can use a logo that already has the lock up:
Or you can place the Feeding America tag yourself, which allows for more flexibility. When choosing this option, "A Member of Feeding America" should always be 50 percent of our logo and appear in the lower right corner, as seen below:
Formats: The CAFB logo is available in JPEG and EPS, also known as hi-res formats. We should always include "A Member of Feeding America", which should be 50 percent of our logo and appear in the lower right.
The logo is proportional so if you need to increase or decrease the size, please right mouse click, click "size and positioning" and change by clicking the arrows next to height, which makes changes by point. It will alter logo proportionally.
Do not change the size of the logo by dragging the box. Dragging causes the logo to appear distorted. The logo below is distorted because the box was dragged.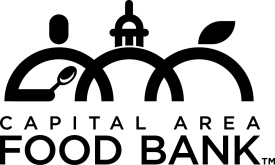 Our logo should be used in the hero position and should be centered – at the top, bottom or in the middle of a page.