For media inquiries or to learn more about our media efforts, contact us at (202) 644-9816.
Media Coverage
April 6, 2014 – The Washington Post – New at the top: A veteran who found his calling in doing good
April 6, 2014 – MANHATTAN: Modern Luxury – 2014 Blue Jeans Ball
March 28, 2014 – The Hoya – ASB Looks Outward, Reflects Inward
March 27, 2014 – WJLA-TV – Online – Taste of the Nation in DC
March 27, 2014 – The Ranger – Alternative spring break helps homeless in D.C.
News Releases
11/5/13 – Results Gym Helps Zero Out Hunger with Zumba Fundraiser
Results Gym on Capitol Hill will open its doors to the public from 12:30 to 1:30 pm, Nov. 16 and host Zumba to Zero Out Hunger, a one-hour dance-fitness class to raise money and awareness for the Capital Area Food Bank.
11/5/13 – Capital One Bank Helps D.C. Residents Get More for Their Money This Week at Area Food Trucks
To help consumers get more for their money, Capital One Bank is offering extras with people's lunch purchases all week at three D.C.-area food trucks. Starting Tuesday, November 5 and running through Thursday, November 7, foodies can upgrade their lunchtime meal or snack.
10/24/13 – Howard G. Buffet Foundation Awards $190,000 Grant to Capital Area Food Bank
The Capital Area Food Bank today was awarded a $190,000 grant by the Howard G. Buffett Foundation, a private family foundation working to improve standards of living and the quality of life for the world's most impoverished and marginalized populations.
---
Logo Usage
The color logos can be used against black, white or other solid colored backgrounds but make sure the logo does not disappear against the background. When choosing logo options, be sure to show contrast but make sure the logo and font are light enough and large enough to read. If you are in doubt, use lighter background colors.
Color Logos: To be used in all communications that are two or more colors, including newsletters, e-mail notices and all other collateral.
Black and White Logo: To be used in faxes and all black and white documents.
Feeding America Lock up: There are two options when using the "A member of Feeding America" lock up.
You can use a logo that already has the lock up:
Or you can place the Feeding America tag yourself, which allows for more flexibility. When choosing this option, "A Member of Feeding America" should always be 50 percent of our logo and appear in the lower right corner, as seen below:
Formats: The CAFB logo is available in JPEG and EPS, also known as hi-res formats. We should always include "A Member of Feeding America", which should be 50 percent of our logo and appear in the lower right.
The logo is proportional so if you need to increase or decrease the size, please right mouse click, click "size and positioning" and change by clicking the arrows next to height, which makes changes by point. It will alter logo proportionally.
Do not change the size of the logo by dragging the box. Dragging causes the logo to appear distorted. The logo below is distorted because the box was dragged.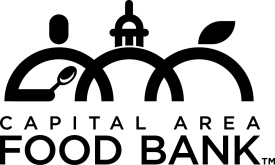 Our logo should be used in the hero position and should be centered – at the top, bottom or in the middle of a page.