For media inquiries or to learn more about our media efforts, contact us at (202) 644-9830.
Media Coverage
January 22, 2015 – Brookland Bridge – Busboys and Poets to Open with New Year's Eve Party
January 9, 2015 – Jewish Food Experience – Sample Our City, Feed Our Nation
January 8, 2015 – The Gazette – Suitland food bank loses delivery van, still serves hungry
January 7, 2015 – The Washington Post – FreshFarm Markets founders to retire this year
January 5, 2015 – The Washington Times – National Symphony to open new year in DC's Brookland, NoMa
News Releases
1/15/2015 – Mayor Bowser Proclaims January 15 Capital Area Food Bank Day as Organization Marks 35 Years of Service
The Capital Area Food Bank, the Washington metro region's hub for food distribution and nutrition education, will mark its 35th anniversary January 15 as more than 540,000 people – 12 percent of the area's population – turn to its food assistance partners to feed themselves and their families. The need continues to grow; the CAFB's Hunger Lifeline, an emergency food referral service, has seen a 57 percent increase in calls in just the last year alone.
12/11/2014 – Star of TLC's Hit Show Breaking Amish to Help Nourish Residents in Need
Kate Stoltz of TLC's hit show BREAKING AMISH will join a select group of DC area residents at the Capital Area Food Bank on Thursday, December 11 for a day of community service – sorting and packing food to help families facing hunger this holiday season. The volunteers – winners of a TLC sweepstakes and their guests – will join Kate for a three-hour work session dedicated to packing food fro the more than 540,000 families, children and seniors who seek food assistance from the Capital Area Food Bank's network of 500 partner agencies across the Washington metro area.
12/10/2014 – Capital Area Food Bank's New Partnership with Rideshare Company Makes Donating Food During the Holidays Uber-easy
The Capital Area Food Bank, the region's largest hunger organization, has partnered with Uber, the rising ridesharing company, to help get food to children, seniors and families during the holiday rush.
10/24/2014 – Wizards Players & Military Personnel to Volunteer at the Capital Area Food Bank
As part of NBA Cares and the league's commitment to service, Washington Wizards head coach Randy Wittman, players Dejuan Blair, Bradley Beal, Marcin Gortat, Kris Humphries, Glen Rice, Garrett Temple and Martell Webster will be joined by military personnel, Wizard Girls, G-Wiz and local students from Browne Educational Campus to help pack bags for the Capital Area Food Bank's Weekend Bag Program, which ensures that nearly 2,000 children have food to eat over the weekend when they don't have access to school meals.
---
Logo Usage
The color logos can be used against black, white or other solid colored backgrounds but make sure the logo does not disappear against the background. When choosing logo options, be sure to show contrast but make sure the logo and font are light enough and large enough to read. If you are in doubt, use lighter background colors.
Color Logos: To be used in all communications that are two or more colors, including newsletters, e-mail notices and all other collateral.
Black and White Logo: To be used in faxes and all black and white documents.
Feeding America Lock up: There are two options when using the "A member of Feeding America" lock up.
You can use a logo that already has the lock up:
Or you can place the Feeding America tag yourself, which allows for more flexibility. When choosing this option, "A Member of Feeding America" should always be 50 percent of our logo and appear in the lower right corner, as seen below:
Formats: The CAFB logo is available in JPEG and EPS, also known as hi-res formats. We should always include "A Member of Feeding America", which should be 50 percent of our logo and appear in the lower right.
The logo is proportional so if you need to increase or decrease the size, please right mouse click, click "size and positioning" and change by clicking the arrows next to height, which makes changes by point. It will alter logo proportionally.
Do not change the size of the logo by dragging the box. Dragging causes the logo to appear distorted. The logo below is distorted because the box was dragged.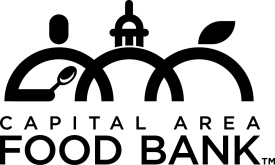 Our logo should be used in the hero position and should be centered – at the top, bottom or in the middle of a page.